Website tinkering, Thanksgiving, Chicago in two weeks... posted October 7, 2017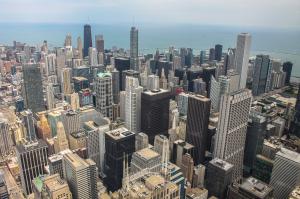 Hey there! First of all, I want to take the time to say hello and thank you to the handful of visitors who have taken the time to visit my photography website. The first year of having my own website has been somewhat of a struggle and the results have seemingly not generated as quickly as I had hoped. However, nobody ever said it was going to be easy. I'm going to just stick with the plan because as a photographer I once knew said, "It takes time and a thick skin."

Look for some updates in my galleries in the near future as my website continues to be tinkered around. Also, look for possibly an online store for you to be able to purchase some prints online!

I'm also heading to Chicago in 2 weeks, so that will be another trip to look forward to and to get some epic shots of the Windy City!

Here's a shot of Chicago I took from the top of the Willis Tower (but locals still call it the Sears Tower). It was taken when I didn't know much about photography. I am confident the shots I get from this trip will be much better! The featured picture was taken in August 2013.