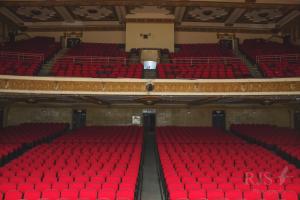 In the early hours of a late September day of this year, tragedy struck at the long-shuttered Thomas M. Cooley High School in Detroit.

The historic Mediterranean Revival high school was built in 1926 and over the years many prominent Detroiters like Mike Ilitch and many football players and athletes from the city graduated here. Like many former schools in the city, it closed due to declining enrollment in 2010.

The school's once beautiful auditorium caught fire and Detroit firefighters had a difficult time getting to the fire, located in the dead center of the school. In the aftermath, the fire was contained to just the auditorium and no other rooms in the school were damaged. The auditorium, though, was totally destroyed, all the seats were gone and the architectural detail inside the room was burned beyond recognition. A few years ago, two former Cooley High School graduates had formed a community group to raise money to buy the building from the city's public school system. In May, they had finally reached their fundraising goal, but after several months of further negotiations, Detroit Public Schools refused to sell the building and would seek other uses for it. After closing in 2011, the school had fallen victim to vandalization and scrapping in recent months prior to its fire. Arson is definitely not a new thing to the city of Detroit. The city averages around 5,000 suspicious building fires a year, which is the most amongst the largest cities in the United States, but only a fraction of them are confirmed as arson. While the school is said to be structurally sound, its future remains in limbo. Many gems of buildings in the city of Detroit have been lost due to neglect (and eventual demolition) or arson and many of us pulling for Detroit's comeback can only hope many of them are still around within the next five to ten years.

The featured picture shown is what the Cooley high school auditorium looked like before it caught fire.