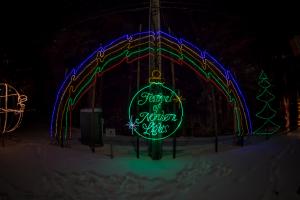 I took the long two hour drive from my home of Stratford to the city of Owen Sound, Ontario to check out all the pretty lights in the 30th annual Festival of Northern Lights. It's a long drive, but it's very scenic going from the flat countryside of Perth County and then through the rugged and rocky highways of Grey County. You also get to pass through a few nice towns along the way, which I think makes the drive more enjoyable than being on a freeway to a larger city.

It is a 25 km long display of lights that starts at Harrison Park in the city's south end, continues up 2nd Avenue East, then to 8th Street East past Owen Sound City Hall to downtown on the banks of the Sydenham River, north on 1st Avenue West and then to 10th Street West.

It was actually my second time at the Festival of Northern Lights, but my first time with my good camera and tripod.

The lights were all so colourful and seeing all the figures made like the obvious Christmas characters of elves, Santa Claus, and reindeer and there were a few well known characters like Wiarton Willie and Minions.

In Harrison Park, the lights looked so beautiful in the valley of trees that surrounded the park. In the middle of it, there were kids playing ice hockey on the rink surrounded by the lights of characters like dinosaurs, fish, and turtles. The highlight of all the lights at Harrison Park was the show depicting the true meaning of Christmas, with the star glowing, the wisemen following it to King Herod and eventually finding Mary and Joseph in Bethlehem after giving birth to our Lord and Saviour, Jesus Christ.

However, while in Harrison Park, I stupidly left my tripod bag somewhere while taking pictures!!! ARGH! I returned to look for it, but couldn't find it! Lesson learned... always leave your tripod bag in your car.

It was then on to the downtown core, there were even talking and singing snowmen who moved their mouths to the beat of many well known Christmas songs for all the patrons to enjoy.

There's just something about christmas light displays that I like, whether it's the bright lights, colours, or the opportunity to work on night photography, it's always fun and festive.

Check out my Facebook photography page for all the pictures I took from the Owen Sound Festival of Lights (copy and paste link in your browser):
https://www.facebook.com/media/set/?set=a.1723941431003410.1073741997.749848608412702&type=1&l=31d8212007

Wishing a very Merry Christmas, Happy Holidays, and a Happy New Year to all my friends, family and followers!