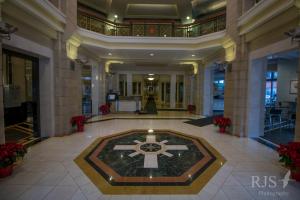 Last week a fellow photographer friend of mine, Tom, who lives in Buffalo, New York invited me to an Instgrammers meet to tour the historic Electric Tower in downtown Buffalo. I could not pass up this opportunity and it certainly did not disappoint. I was also able to get another Buffalo friend of mine, Kate, into the list of those to tour the building. I met up with her for lunch before the tour to get to know each other better and to hopefully schedule a meet up to practice night shots. Luckily we were able to schedule that night to do it as she was able to work it into her busy schedule. Meanwhile, we made our way to the Electric Tower to greet our fellow Buffalo Instagrammers in the lobby.

While all of us took pictures in the lobby, the building's superintendents told us about the building's history. It was completed in 1912 and was modelled after a similar building, the Tower of Light which was built for the Pan-Am exposition of 1901 which took place in Buffalo. Sadly, like most of the Pan-Am exposition buildings, it was torn down. The original building was a unique octagonal shaped beaux arts tower and additions were built in 1920 and 1923. The building originally housed the headquarters for Niagara Mohawk Power Corporation, which served all of New York State except for New York City and Long Island until 1932, they it moved its headquarters to Syracuse.

However, Niagara Mohawk maintained a regional office in Buffalo. I was surprised in looking at old pictures of the building in the gallery that from the 1960s until the early 2000s, the lobby looked totally different, like some cheesy office out of the 1960s or 1970s. The lobby was restored to its original 1912 grandeur shortly after Iskalo Developments had purchased the building in 2004.

We all then went up to the Conference Room, the second-most impressive room in the building to get some views of the city. As many visitors to Buffalo might notice, the city has a lot of old buildings still standing. Our tour guide explained (and I knew from a downtown tour a few years ago), the reason why Buffalo has so many of its buildings still in tact is because unlike many cities in the 1960s and 1970s who were tearing down older buildings for urban renewal, the city of Buffalo was so cash-strapped that they couldn't afford to tear any of their buildings down so the entire Main Street and most of downtown was kept as is all this time. I am one of those who was glad they didn't and it worked out beautifully for the city to become so architecturally important. We then went up inside the light tower to see what it is like to be up in that airy room where new LED lights are being installed. It is also where the famous ball in Buffalo is installed and eventually dropped from every year during New Year's Eve celebrations held in the city.

After that, we got up to the 12th floor rooftop for some amazing views of downtown Buffalo and the area. You can even get a glimpse of New Era Field (home of the Buffalo Bills) in Orchard Park and Our Lady of Victory Cathedral in Lackawanna. We had so much fun getting shots from the roof that we didn't want to leave!

It was then on to the 7th floor of the building, where Niagara Mohawk's former headquarters and later regional office was headquartered. The space is being redeveloped into modern office space and we got a glimpse of the former board room whose unique features included a door that led to nowhere as a result of an architectural blueprint mistake and a Men's only restroom. As we concluded on the 7th floor, we also saw the original tiling on the outside of the Electric Tower's exterior prior to the addition. Compared to the outside, of the building, there was a lot more buildup of dirt on it, it was likely from pollution when Buffalo was very industrialized with all the coke ovens and steel mills still active around the city.

We all finished up our tour and grabbed a bite to eat at one of Buffalo's hottest newer microbrewery/restaurants, the Big Ditch Brewing Co. Most of their cuisine is uniquely Buffalo. I ordered a couple of pints of beer and, of course, wings! A great Buffalo combination! Me and the group had a chat catching up with everything going on in our lives. Later during our dinner, we paid tribute and toasted our late friend, Ron Slisz, (IG name @ilovewny) who was one of the original Buffalo Instagrammers. He passed away in later November due to a heart attack, it was so sad and sudden, because I respected his efforts and hard work he put into his photography and I enjoyed hearing his urbexing adventures and we loved loving him come to our meet ups. We will miss you, Ron. After dinner, most of us went our separate way and I took time to go down to Erie Basin Marina to get some long-overdue Buffalo skyline shots at night from there.

I would then meet up with my friend Kate and her super-cool husband for our first (of hopefully many) night photography shoot together. We started out at the Theater District across from Shea's, then went to near the Electric Tower and on to City Hall all for some long exposure and right shots and I even let her take a couple of the Hotel Lafayette and Lafayette Square.

It was then on to near the Peace Bridge, which was being worked on and sadly wasn't illuminated at the time like we wanted, but the effort was there and it turned out to be a very nice picture she got. Then for the finale, it was to over the Interstate 190 expressway and the Buffalo skyline, which she captured beautifully! Kate did extremely well for her first time and I think her knowledge of photography terms definitely came in handy here and my assistance and encouragement should help give her some confidence in future night photography shoots!

After we concluded our shoot, it was back downtown saying our goodnights to each other and for me, it was the long, enduring 2 1/2 hour drive back to Stratford. I was tired when I got home, but the adventures, exploring, seeing my Buffalo friends and hanging out always makes the long drives to Buffalo worth it.

The featured picture is the interior of the Electric Tower's beautifully restored lobby.